From rigidity
to resonance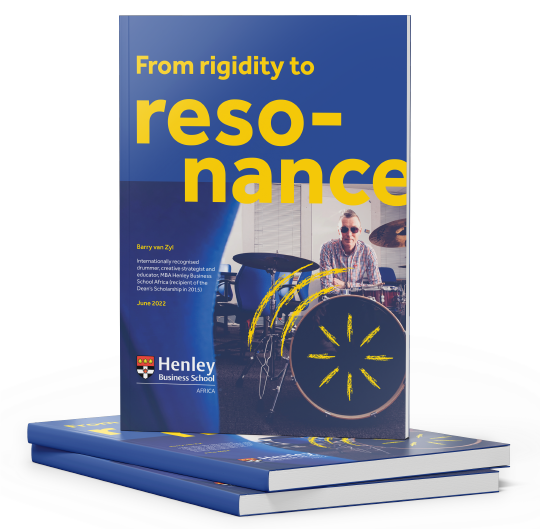 A unique way of countering the limiting effect of resistance to change
This white paper introduces Barry van Zyl's trademark ICE Framework. Comprising three interlinked layers: Individual, Community, and Environment, the framework provides a system of thinking to help business leaders find the alignment at each of these levels – and across all three – in order to build resonance within their organisations.

The work stems from van Zyl's more than 30 years of experience recording and touring with the Johnny Clegg band and other major musical acts including Annie Lennox, Ladysmith Black Mambazo, Peter Gabriel and Arno Carstens. As the man with the sticks, he was the anchor of each artist's and group's rhythm section, helping them stay, as he says, in the groove – a deep musical state of resonance.

The ICE Framework offers a unique way of looking at the wealth of existing theories and insights into self-development in the spheres of rhythm, neuroscience, physics, and sociology, while also countering the limiting effect of resistance to change or rigidity.


The missing link between intuitive knowing and strategic intent
At an individual layer people need to first be in harmony with themselves, for example, by working at a time of day they operate at their best and building self-awareness. The community groove level is achieved by developing effective engagement with others while the outermost layer, the environmental groove, zooms us out to the point where everyone is seen as an essential part of a complex and well-coordinated system continually influenced by changing global cycles, largely outside of our direct control.

How people engage at each of these levels is a deliberate choice that has profound implications for our productivity, creativity, wellness, and state of mind. People can learn to be fluid and adaptable, just like water or they can be rigid and unmovable like a piece of iron – a state of resistance or rigidity. The one extreme builds anxiety and blinkered thinking, while the other – resonance – promotes curiosity, open-mindedness, and innovation.
How rhythm and resonance can build more resilient organisations
Resonance is a lived approach that heightens self-awareness in an uncertain world by applying a fresh lens that taps into nature, universal rhythm, and innate human behaviour.

By implementing the ICE Framework, individuals and organisations can develop a systems-based approach to resonance that encourages personal mastery and development with the same consistency as it seeks to improve team dynamics.

Ultimately, this can lead to better communication, a sense of well-being, open-mindedness, improved creativity, responsiveness, and enhanced intrinsic motivation levels. All of which serve to build stronger and more resilient organisations more capable of engaging proactively with the changes impacting our world.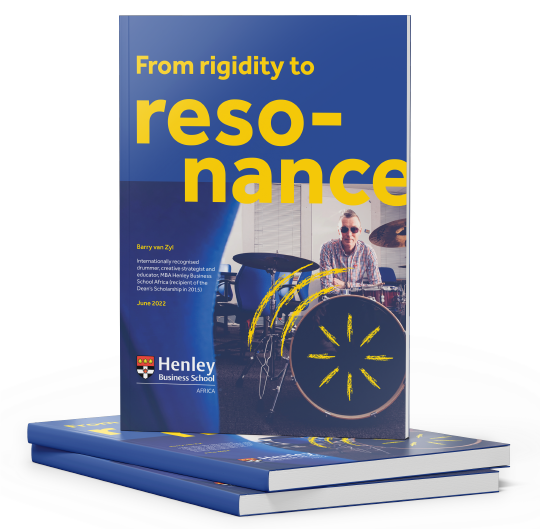 Download the White Paper now